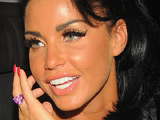 Katie Price
is planning to challenge her new boyfriend Alex Reid in the boxing ring, it has been claimed.
Price and Liberty X star Michelle Heaton will face off against Reid and the singer's partner Hugh Hanley at an extreme sports festival in Brighton next month,
The Mirror
reports.
The glamour model's boxing coach Sol Gilbert commented: "It's going to be a real crowd pleaser. I'm sure there'll be plenty of interest. She's got all the moves too.
"Alex will have to watch out. I've taken a few punches from her and she's as tough as they come. I've been training Jordan and she can deliver some really special right hooks.
"She's shown a real flair for it and is getting better every day. But at the end of the day this is just a showcase boys against girls bout. It will be fun and not at all dangerous like the real thing."
The match is expected to take place at the White Air Festival on September 20.
Price was
granted
a 'quickie' divorce from Peter Andre yesterday.