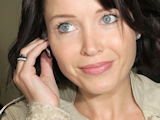 Dannii Minogue
has said that her stress over the death of a friend and her sister Kylie's
cancer diagnosis
sparked her use of Botox.
The
X Factor
judge told
Grazia
that she has
stopped using
the neurotoxic protein because of her relationship with Kris Smith.
Dannii said: "My sister was sick, then my best friend died soon after - I felt I'd been hit by a wave. I couldn't deal with the stress. I couldn't deal with having to look at my face.
"It was a personal thing of having to get through a lot of sadness. At first, it was something fun I tried, then it became a necessity."
She added: "I don't need Botox now and don't want it. Life is just so different now. I'm in such an incredible place.
"I guess at my age I have to start thinking about babies at some time. But to be honest, I'm just enjoying being so wildly in love and being so happy. He is the one."