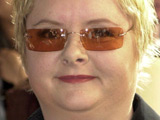 Magda Szubanski
has been forced to apologise for making "thoughtless" jokes about cyclists on TV after being bombarded with criticism on Twitter.
The
Kath and Kim
star, who encouraged drivers to "take out" annoying cyclists during a sketch on comedy show
Good News Week
, even offered to take part in National Ride to Work Day next month.
According to
The Daily Telegraph
, Szubanski said: "The way I expressed myself was appalling and thoughtless. And I sincerely apologise."
She continued: "I was so very saddened to hear of the terrible accidents and injuries that some people have suffered when riding and I feel deeply and truly sorry to think that my comments might have added to their pain."
She added: "When I made those comments I was not thinking that drivers actually target cyclists deliberately. You may think this naive of me but that is the truth."