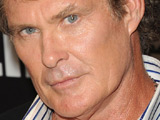 David Hasselhoff
was admitted to a hospital rehab unit this week after an alcohol binge, it has been reported.
According to
The Sun
, the former
Baywatch
star had been drinking for days at the five-star St Martins Lane Hotel in London when a member of his staff called for the assistance of a medic.
Hasselhoff reportedly accidentally hit Dr Paul Ettlinger, who came to assess his condition. At this point, the actor was allegedly locked in the hotel basement while an ambulance was called.
The star was then taken to Caprio Nightingale Hospital, where he stayed for two nights before being discharged on Friday.
A fellow patient told the newspaper: "He was recognised immediately. Everyone was thrilled The Hoff had arrived and wanted to meet him.
"But the nurses were anxious to make sure he had a quiet time to recover and were telling him he needed vitamins and iron to build himself up."
Hasselhoff's alcohol binge allegedly began at Simon Cowell's 50th birthday party, where he got so drunk he had to be escorted back to his hotel.
A source close to the star stated: "David is very hard to handle when he drinks, often very emotional and aggressive.
"On this occasion he became so drunk he wet his hotel bed - ruining two mattresses - and was becoming a real pain for staff.
"His assistant Joe Townley was so concerned he called out a doctor. David was furious and lashed out at him - but mistakenly hit the doctor.
"They decided they had no option but to lock him in the basement until an ambulance arrived."
Hotel guest Maria Weston revealed that she had earlier seen Hasselhoff swearing in the bar.
She said: "He was abusing all the staff, shouting at everyone. We were shocked - you'd think he was just some drunk, not a big star."