Showbiz News
Brazier: 'Tweed can't see the children'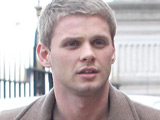 Jade Goody's ex-husband
Jeff Brazier
has claimed that he doesn't want Jack Tweed to see his children anymore.
Brazier, who had two sons with Goody, told the
News of the World
that his decision is "common sense".
"With everything that's happened, it's just proved too much for me to ever imagine Jack seeing the children again," he said. "I don't say that as a punishment to Jack. I say that as the father of my children. They just deserve a lot better."
Goody said before her death that she wanted Tweed to be involved in the boys' life. However, Brazier said: "I respect Jade's wishes, but it's my right to put a little common sense into the equation.
"If I feel what she wanted will be detrimental to the children because of situations that have developed since her death then I'm going to do something about it."
Brazier added that he had made his decision before Tweed was
charged
with rape.
"We have no reason to be in touch," he said. "I was in the process of communicating that to him. I don't think he was very accepting of it, and then he got arrested. I was like, 'That's what I'm talking about'.
"But he only saw the kids a handful of times. He made a token effort just after Jade died. Then it developed to Jack being in trouble and living at a place where the kids were never able to go. It just got steadily worse.
"I'm not surprised that this is the conclusion six months after Jade's death."