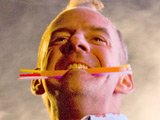 Zoe Ball
has said that she is proud of husband Norman Cook for tackling his drink problem.
The TV and radio presenter, who also gave up alcohol earlier this year, claimed that it was harder for Cook than it was for her.
Speaking to the
Sunday Mirror
, she said: "I told Norm I was stopping in January.
"I hoped he would stop too, as he had a bigger issue with it than me, and then in March he did. It was a massive thing for him. He went into rehab and I was so proud of him.
Ball claimed that it was high time both of them changed their ways.
She explained: "Before I gave up drinking, I had got to the point where I'd think I'd just have two glasses, but then I'd carry on and still be there at 6.30am ranting in a corner. I was that mental one you would always get at a party.
"But I was getting depressed about it all, which is why in January I stopped. Those first few months were hell. Norm had not stopped at this point and it was tough.
"At times it made me realise how in a marriage, if one stops and the other carries on, it is difficult.
"I needed him to support me as it was a big deal. He was still drinking and I was like 'I need your support, this really is difficult not drinking'. I just shut myself away and didn't go out or see anyone.
"Then when he stopped drinking too, in March, we could deal with it together and support each other. He has done so well and we really do take each day as it comes.
"He was very worried because he thought he wouldn't be able to do his job, but he is back doing gigs and enjoying them more than ever."
> Zoe Ball: 'Booze stopped me conceiving'