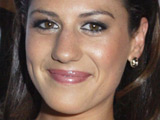 Stephanie Rice
has dumped her management after deciding that they charge too much money.
The Aussie swimming champion, who was originally looked after by International Quarterback, has decided to "self-manage" her career and earnings.
A source close to Rice told the
Herald Sun
: "She looked at the figures and saw 20% of her earnings going to her management company and she felt it was a lot of money and decided to manage herself - which is her prerogative."
Rice has apparently now taken on her marketing expert friend Claire Groves to advise her.
The 21-year-old gold medallist is believed to earn approximately $800,000 (£442,000) a year in deals with Channel 7, Davenport underwear, Telstra, Speedo and Sunrice.