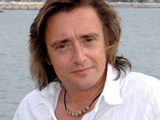 Stewart Lee
has explained the reasoning behind his recent joke about
Top Gear
presenter Richard Hammond's car crash.
The comedian suggested to the
The Observer
that the media outcry over the
material
was hypocritical.
Lee said: "The idea of what's acceptable and what's shocking, that's where I investigate.
"I mean, you can't be on
Top Gear
, where your only argument is that it's all just a joke and anyone who takes offence is an example of political correctness gone mad, and then not accept the counterbalance to that.
"Put simply, if [Jeremy] Clarkson can say the prime minister is a one-eyed Scottish idiot, then I can say that I hope his children go blind."
He claimed that he would still use the material if the
Top Gear
team turned up to his show and added: "Clarkson is a right-wing libertarian so he'd probably be all right with it.
"I'd happily debate the routine with Hammond and I think he'd get what it's about, that he's being used as a symbol of the sort of debased crassness that passes for controversial humour these days."