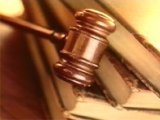 Michael Jackson's attorney has stated his intention to have a host of celebrities testify in his defence.
Tom Mesereau recited the list of planned witnesses for the defence, numbering over 350 people, as jury selection resumed yesterday. Among the list were comedian Chris Tucker and singers Diana Ross, Barry Gibb and Nick Carter.
The attorney did not clarify exactly what use the bunch of celebrities were supposed to provide in defending Jackson against the charges of child molestation.
He also intends to call ten members of the star's family to testify in his defence, including Paris and Prince Michael, along with several of his nieces and nephews.
Mesereau's announcement of the identities of witnesses was in the name of a procedure called 'voir dire', in which both he and Deputy District Attorney Ron Zonen had to reveal who they would call to the stand.