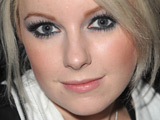 Little Boots
has voiced her support for a campaign against sweatshops in the UK and foreign countries.
The
'Earthquake'
singer spoke out to back the work of War On Want, which calls for British retailers to improve conditions and treatment of workers in their supplier factories.
Speaking to the
Daily Record
, the 25-year-old explained: "I support the campaign against sweatshops. It's awful for anyone who is not being paid minimum wage and work their backsides off.
"It is terrible that these sweatshops exist in Britain. The clothes aren't the problem because they are cheaper and you can't blame people for getting bargains. It is the manufacturers who need to make sure there are proper conditions for their workers."
She added: "Look at shops like Oasis, who do everything above board and pay workers good wages and overtime. If they can do it, why can't everybody?"
Little Boots - real name Victoria Hesketh - is believed to have sold 250,000 copies of her debut album
Hands
since its release last year.