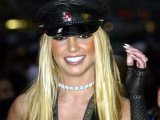 Britney Spears has revealed that she would like to follow in the footsteps of Canadian warbler Celine Dion.
Having left her chart-topping heyday in recent times,
My Heart Will Go On
diva Celine Dion has retreated to gambling capital Las Vegas to entertain visitors in her lengthy residence there.
According to Contact Music, Britney Spears finds this route appealing. She is quoted as saying: "I think Celine Dion, the way she does it, with her show in Vegas, is the way to go. Everybody comes to her.
"When I have kids, I'm so there. That's what I'm doing."