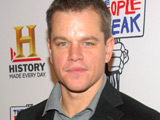 Matt Damon
has revealed that Morgan Freeman offered him words of reassurance about turning 40.
The Hollywood actor, who appears alongside Freeman in the film
Invictus
, has said that his 72-year-old co-star gave him good advice on what lies ahead as a 40-year-old,
Contactmusic
reports.
Damon said: "I was talking to Morgan and someone said I was about to turn 40 and Morgan said, 'Are you about to turn 40?'
"I said I was and he said, 'You are just coming into your prime'. I said, 'Really?' And he replied, 'The 40s are the best decade by far. That's when things really get good."
The Oscar winner has two children with his wife Luciana Bozan Barroso, who also has an 11-year-old daughter from a previous relationship.
Invictus
is currently playing in US cinemas and is released in the UK on February 5.