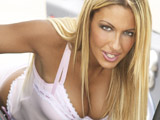 Jodie Marsh
has advised celebrities who want to be photographed by the paparazzi to flash their breasts and not wear any knickers.
The glamour model gave a tongue-in-cheek guide on being snapped by the press to
Heat
, including hints for those on shopping trips, the red carpet, leaving a club and getting out of a car.
Marsh said: "Ideally, if you're wearing a skirt you wanna show your bits off - so preferably wear no knickers. Spread your legs as wide as possible when you get out, and put one foot on the pavement, keeping the other leg in the car.
"As you get out, bend over so they get a full cleavage shot as well. I wouldn't do any of this, but I've seen it!"
She added: "You want to accidentally-on-purpose have a boob or nipple out, as if you didn't realise.
"You're one of a hundred celebs walking down the carpet and you have to make the biggest impact to get in the papers. If you don't mind how you make an impact, have hairy armpits! It worked for Julia Roberts."