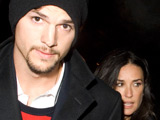 Ashton Kutcher
has admitted that he hopes this Valentine's Day is better than last year.
The actor has revealed that his wife Demi Moore, Bruce Willis and his wife-to-be Emma Heming all agreed to spend the holiday together. Kutcher, who was in charge of selecting a restaurant where the four would dine, recalled that he ruined the evening by not having any luck booking a reservation.
The 32-year-old told
Teen Hollywood
: "It was me, Demi, Bruce and Emma, which is great because we're all best friends and we all hang out. I got to be in charge of booking the restaurant.
"It was February 14 and we weren't in Hollywood, where I have a little clout making reservations. So I'm like calling around, trying to pull any kind of juice that I can to get a table. But, I hate dropping my own name, so I'm like, 'Yes, I'm calling from Mr Kutcher's office, he would like a reservation'. And literally every place was booked... We ended up sitting at the bar some place."
Kutcher's new movie
Valentine's Day
arrives in cinemas on February 12.