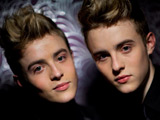 John & Edward
have rejected the suggestion that they stole their distinctive hairstyle from La Roux's Elly Jackson.
Jackson recently
quipped
that she asked the
X Factor
twins for royalties after alleging that she had inspired their quiffs.
John told
The Guardian
of their style: "You get a hairdryer, put it upside down and blow your hair up. Then you get loads of gel, start at the back, then the sides, then the front, then you spray on loads of hairspray.
"We met La Roux! She's really nice but she said we copied her look. But we're guys and she's a girl! I think she wants to get hers higher than ours!"
The duo were also asked if they had seen the Farrelly brothers' 1998 movie
There's Something About Mary
, which features Cameron Diaz's character unknowingly using Ben Stiller's ejaculate to style her hair.
Edward replied: "I've seen that movie many times but I've only just realised. I always thought that it was gel."