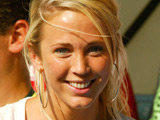 Bec Hewitt
is sick of following her tennis star husband around the world, it has been reported.
The former
Home and Away
star, who has 4-year-old daughter Mia and 1-year-old son Cruz with Lleyton, is reportedly desperate to create a more stable environment for her children and follow her own career dreams.
A friend of the family told
Woman's Day
: "They are mostly on the road during the year. The tennis circuit is Bec's real home until Lleyton retires. Anything else is secondary to that.
"She sometimes gets teary in other countries when the family has been travelling for ages. I can understand she's torn about leaving Australia again. For a tennis player and his family this is the best time of year to be here."
The Hewitt family own properties in Sydney, Adelaide and Melbourne, but have travelled to more than ten countries in the past year.