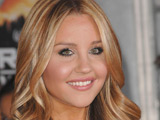 Amanda Bynes
has announced that she split from her mystery boyfriend this week.
The 23-year-old actress took to her Twitter page to confirm to fans that she now plans to spend Valentine's Day alone after breaking up with her unnamed beau.
"If something doesn't work out with the guy I like, then I guess it just wasn't meant to be! You can't FORCE relationships/love," Bynes posted. "If it's meant to be, it will be!
"Oh well! It was fun while it lasted. I'm over it. It's a good thing I never said his name so I can pretend like it never happened! I will just block him out of my memory!"
Earlier this month, Bynes
dismissed
speculation that she was dating rapper Drake.