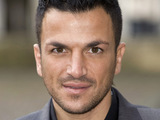 Peter Andre
has predicted that the full story behind his split from Katie Price will eventually become public knowledge.
The popstar has never given any explicit reason for his
decision
to dump Price last May.
However, speaking about the break-up in a new interview with the
Daily Star
, Andre remarked: "When you see the whole story you'll realise why I lost all [my] confidence. And I do think it will come out eventually, just not from me."
Discussing the success he has enjoyed since the split, he commented: "My fans have been out of this world. I just don't see the hype. I wouldn't even notice it unless someone physically came up and said it to me.
"I think I have always been self-doubting. I guess it can be a sign of weakness but you don't get cocky in this business being like that.
"I'm not arrogant and the nicest feeling in the world for me is someone saying, 'He's a nice bloke'. That and someone saying you're a good dad."
Andre has previously
promised
not to reveal "incredible stuff" about his marriage to Price and recently
said
that his new book will not focus on their break-up.