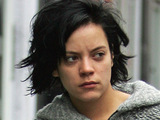 Lily Allen
has suggested that Courtney Love needs help.
The female singer-songwriters have exchanged
insults
after Love accused Allen of
banning
her from wearing a Chanel dress at last month's Brit Awards.
After Allen posted an unflattering photograph of Love on Twitter, the Hole singer used the social networking site to accuse her of being "on gak every night" (sic).
She added that Allen was "a brat" and an "insanely deluded irrevelant friendless unattractive" child and criticised her for allegedly doing "massive amounts of cocaine at my house".
Allen responded: "Dont want to drag this thing out but, for the record i thought Courtney Love was attacking me, hence my response.
"In retrospect, having read her twitter updates and found them quite hard to decipher, i think she is in trouble and in need of help.... i hope she has people looking out for her."