Showbiz News
Brooke Shields: 'Fame is like a drug'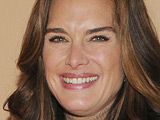 Brooke Shields
has warned that fame is addictive.
The 44-year-old
Lipstick Jungle
star, who has daughters Rowan, 6, and 3-year-old Grier with husband Chris Henchy, said that she would not want them to get into showbusiness.
Shields told
Ladies' Home Journal
magazine: "It's a high like you can't imagine. It's like a drug. But no, I don't want them involved. Every day you're told what you are not. 'You're not short enough, you're not thin enough, you're not pretty enough.' You're always losing out."
Shields recently said that she wants to be successful in her career and home life, saying: "I'm greedy. We were walking to school yesterday and my daughter said, 'Mum, I want you to be a class mum.'
"I laughed in her sweet little face and said, 'You want me to be a class mum?' I said, 'I'm a classy mum. Isn't that enough?'"