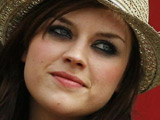 Amy Macdonald
has admitted that she doesn't care about fame.
The musician explained that she would hate to be photographed when she is drunk,
The Mirror
reports.
"I can't see why anyone would like people to see them falling out of a club," she said. "I just can't work it out. Why would you want a picture of yourself in the paper looking terrible?"
She continued: "I just love music, and I do this because of that. I'm so passionate about music and I love going on stage performing to people, so I don't need to see myself in
Heat
magazine. I don't care about that.
"You feel bad enough the day after you've been drinking, so you don't need to be worrying if there's going to be a picture of you falling over in the papers."
Macdonald added that she is glad she lives in Glasgow because it means the press do not pay her too much attention.
"Because that culture's not here, it's very easy to have a normal life up here," she explained. "I wouldn't want to live anywhere else. If I did move to London, and my life completely changed and I was getting followed all the time, I don't know how I'd deal with that. I think I'll stay here and be normal for as long as humanly possible."
> Click here for our review of Amy Macdonald's latest album A Curious Thing