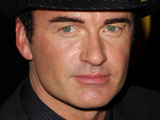 Lady Sonia McMahon has died from cancer aged 77.
The Australian socialite and charity worker, whose son is
Nip/Tuck
actor
Julian McMahon
, passed away on Friday at St Vincent's Private Hospital in Sydney surrounded by her family.
Prime Minister Kevin Rudd described McMahon as a "distinguished representative of Australia'', adding: "She was a wife of a prime minister of this country, they lived in the house where we are currently standing this morning.
"So I believe appropriate respects should be paid to her family, appropriate respect to the contribution that she and her husband made to Australia, and understand at a purely human level, this is a day of great sadness for any family.''
It has been reported that McMahon had been battling cancer for the past year.