Showbiz News
'Doctor Who' made Eccleston ill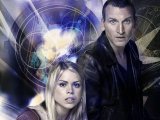 Christopher Eccleston has revealed that playing the Time Lord contributed to skin conditions.
He told
SFX
magazine: "There were days when I got psoriasis, I got eczema.
"My face blew up in the 'Dalek' episode. I looked literally disfigured with tiredness and poor skin. You can't have a life. You can't socialise."
In answer to those who underestimate how hard a project it was, he added: "It is actually hard graft. With TV, you do a 14-hour day and then you're doing your line-learning.
"I'm not moaning about it, but if you play the Doctor the hardest thing is you can't have a life."