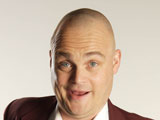 Al Murray
has said that he was unconcerned by the negative reaction from some reviewers to his sketch show.
The stand-up comedian, famed for his Pub Landlord character, fronted ITV1's
Al Murray's Multiple Personality Disorder
for one series in 1999.
When asked if he was bothered by the response from some critics, he replied to
Metro
: "No. I'm puzzled by how quick people are to take offence.
"What some critics are saying is, 'I don't find that funny', which sounds mean-spirited and weak whereas, 'I'm offended by that', sounds positive and strong.
"Any sensible person knows you can't make everyone laugh because everyone doesn't have the same humour."
Of the controversy caused by his gay Nazi character, he added: "Yes but some people got it and understood it was supposed to be funny.
"I don't get hung up on these things because you can't change anyone's mind. How many jokes are improved by explaining them? So I'm not going to bother."