Showbiz News
Family pay respects to McMahon in Sydney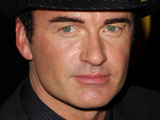 Lady Sonia McMahon
was cremated on Friday in a ceremony attended by her three children and a few family members.
The Australian socialite and former First Lady, whose son is
Nip/Tuck
actor Julian McMahon,
died
last week in St Vincent's Private Hospital after a private year-long battle with cancer.
A friend of the family told
The Daily Telegraph
: "She had wanted her friends to believe she was robust and fearless to the end. She did not want to be remembered as frail."
Julian and sisters Deborah and Melinda were joined by his girlfriend Kelly Paniagua and daughter Maison.
The following day, the group joined some of Lady Sonia's closest friends and family at the Derby Day Carnival, where a race was run in her honour.