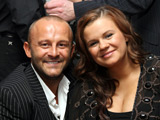 Mark Croft
has revealed that he's spent Kerry Katona's fortune and doesn't regret any of it.
Katona
split
from Croft after he alleged that she had cheated on him.
He told the
Daily Mail
: "Yes, I've spent Kerry's millions and I don't miss a penny of it - or feel any regret about how our marriage failed.
"All I want now is to see my kids. Without them, my life isn't worth living. But as for Kerry - she's dead to me now. Since we split I've hardly seen my kids."
Croft and the former Atomic Kitten singer are parents to 3-year-old Heidi and 2-year-old Max.
He continued: "Kerry's now moving south to start a new life with them. But what say have I had in it? I'll tell you, f**k all.
"I'm no saint. I've done drugs, booze, wasted her fortune, you name it. But the one thing I am not is a s**t dad."
He added: "I'm skint, which is entirely my own fault. But I'll fight Kerry tooth and nail over the only thing that matters to me now - my children. God knows where I'll find the money. But mark my words, I will.
"I read she thinks I am a good dad. If that's the case, why is she moving them to the other end of the country? Now I'm going to have to scrape together some cash from somewhere to buy a people carrier to get down there."