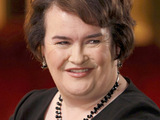 Susan Boyle
has announced an autobiography deal marking her newfound fame.
The 55-year-old singer, who shot to stardom during her stint on
Britain's Got Talent
last year, will pen
The Woman I Was Born To Be
for the autumn.
She is quoted by the
Irish Independent
as saying: "When I strutted onto the stage for that audition, I was a scared wee lassie, still grieving for my mother, not caring how I looked.
"I think I've grown up a lot in the last year, become more of a lady, and I'm not so frightened anymore. I'm writing this book to try to show that you shouldn't judge a book by its cover and I hope it will benefit other people."
Boyle added: "My story demonstrates that you shouldn't just look at the label, you should look at the whole person, emotionally, physically, mentally and spiritually.
"I hope that telling it will show that dreams are not impossible, if you've got courage and a willingness to go on no matter what the circumstances."