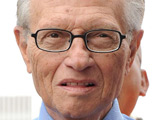 Larry King
's lawyer has said that there is a good chance the host will reconcile with his wife Shawn.
According to
Access Hollywood
, King's attorney Dennis Wasser admitted that he is now unsure where his client stands on the idea of a reconciliation.
"There's a 50/50 chance this divorce is not happening," Wasser said. "[Larry's] focus is on the best interest of his children. It's not clear to me which way he's going to turn on this issue."
Earlier this week, the CNN presenter's counsel said that he
believed
the divorce "was proceeding".
King's lifelong friend Sid Young revealed that he also supports the repairing of the couple's relationship.
"I don't think he wants to split," Young said of King.
The pair were
previously
seen embracing each other at their son's little league game.