Showbiz News
Octomom: 'I regret having 14 kids'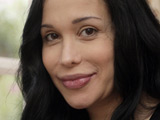 Nadya Suleman
has revealed that she feels guilty for giving birth to eight babies last year.
The 'Octomom', who had IVF in order to conceive the octuplets despite already being a single mother of six, said that she only had so many children because she had her "own childish desires to compensate".
Suleman admitted on
The Oprah Winfrey Show
that she was "trying to fill some missing piece inside" when she tried to get pregnant, adding: "Looking back, I've always coveted that connection, that attachment to another being.
"The connection felt safer with children than with a significant other, more predictable. The security - I was hungering for the security."
Suleman also said that she relies on media appearances to keep her family financially stable, saying: "We're surviving. We're so busy going, going, going, moving, moving, moving, trying to keep up that you don't have time to think, to reflect, to feel anything.
"I own all of the responsibility for my poor choices in the past. Do I regret [it]? You can't regret children. But the choices were childish. They were immature. They were selfish. I feel as though I wasn't thinking at that time.
"If I could go back, would I make different choices? Maybe. At this point, I know and I need to teach my children that we need to learn. And when we make poor choices, all you can do is really, really learn from that and grow from that. Try not to repeat it."