Showbiz News
Westwood: 'McLaren was a very good man'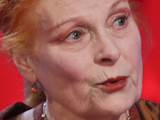 Vivienne Westwood
has said that today's funeral for Malcolm McLaren will be a goodbye to a "very good man".
The ex-partner of the former Sex Pistols manager welcomed
the plans
announced by their son Joseph Corré to honour his late father.
Westwood told
NME
: "A minute of mayhem's alright by me, and the procession as well - it's a nice way for anyone else who wants to pop along."
She added: "It's the send-off for a very good man... It's just a funeral - the man's gone. I've heard that he's going to get everyone to sing 'You Need Hands'. I think it's actually better when you hear Malcolm's version.
"I think he sung it so well and so beautifully, I really do. I've been playing that song, more than anything, since he died. It makes me cry. It's like, 'Ah dear, Malcolm'.
"He was really a nice person. He's got this thing that he was labelled as being this person who would hurt you, but I don't think he did. I just think Malcolm was as immune to those hurts as everyone else."
Of the tributes paid to McLaren since
his death
, Westwood said: "I felt that too, when he died - a sort of wave of love.
"But then I felt that when I heard that he was ill as well. I thought, 'Oh dear, poor Malcolm'. I really did. It was very unexpected, because he was quite young and he was healthy."