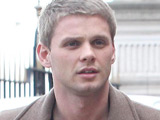 Jeff Brazier
has admitted that he is doing everything he can to help his sons come to terms with the loss of their mother Jade Goody.
The presenter has been bringing up Bobby, six, and Freddy, five, on his own since Goody's
death
from cancer just over a year ago.
Brazier told
The Mirror
that there is "nothing more gratfiying" than making the house run smoothly so that the boys are happy. "Parents will know what I'm on about," the 30-year-old said.
"My role has changed massively. For now, I'm mum and dad. We still haven't coined a phrase for being mum and dad but 'MAD' as an abbreviation isn't far off the mark."
Doctors recently
ordered
Brazier to rest as juggling his homelife and career began to take its toll. However, the presenter said that his priority is now making sure that his children have happy and fulfilled lives.
"They've got a lot of stability and a lot of love emanating from all directions and I think that's the most I can give them, but it may come to a point they need a little bit extra. I'm going to get some help from a charity called Grief Encounter and they are going to help with counselling because I think it's healthy for them to have that," he said.
Meanwhile, Brazier is taking part in a new one-off TV programme called
Superdaddy
in which he helps separated parents overcome their differences for the sake of their children.
Superdaddy
airs tomorrow at 9pm on Living.