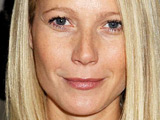 Gwyneth Paltrow
's personal trainer has revealed that the actress ate lots of "weight-gain" foods during the filming of
Love Don't Let Me Down
.
Tracy Anderson, who also helped Paltrow get in shape for her role in
Iron Man 2
, said that she cut down her training, ate whatever she wanted and gained weight.
Anderson told
Us Weekly
: "She loves to eat. She pigged out. She did gain weight. We took her training down from six days down to three days a week and she just ate whatever the hell she wanted.
"She ate all of the weight-gain culprits. She loves bread and she loves cheese. [But the weight's] all off [now]. To get her back to shape, we bumped [her workout] back to six days a week."
Paltrow has previously
blogged
on her website GOOP about eating fried chicken and ice cream sundaes on the film set.