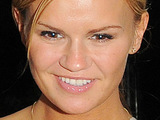 Kerry Katona
has apparently accused her estranged husband of breaking into their former marital home and making off with numerous personal items.
The former Atomic Kitten, 29, said that her daughter Molly's piano and a sunbed were among possessions taken by Mark Croft.
The ex-cabbie, 39, insisted to the
News Of The World
that he removed the items to keep them safe after finding the house was already ransacked.
However, a source said that Katona was furious and saw no need for Croft to be at the property.
"Kerry left a lot of valuables behind in the house. She knew Mark had a key but told him to stay away. She changed the code on the alarm," the insider said, adding that she was most annoyed that he had taken Molly's piano. "Kerry couldn't believe Mark could do that to Molly."
Croft countered the accusation by saying: "Kerry's solicitor wrote to mine and said I could collect my belongings she had left behind.
"I went to the house as agreed and left myself in using my key. The house looked like it had been ransacked when I got there - I didn't break a thing. When I looked around I realised Molly's piano and a sunbed had been left behind. I didn't want them taken if the house was repossessed. I wouldn't do anything to hurt Molly."