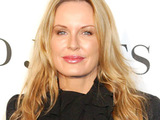 Les Dawson
's daughter has spoken out about the pressure she is under to live up to her father's achievements.
Charlotte was just 8-months-old when the comedy icon died from a heart attack and told
The Mail On Sunday
that she has always felt the weight of expectation to match his success.
"I feel his fans expect me to become a comedian, which annoys me," she said. "But I can't follow in dad's footsteps just to make them happy. I'm proud of what he achieved. But people have to accept me for who I am."
Charlotte, 17, last week launched her career as a swimwear, lingerie and catalogue model in a move away from her showbusiness background.
Having gleaned most of what she knows of Les from seeing him on old video tapes and on YouTube, she said: "I always enjoyed seeing him on television, but in another way, it was scary because he wasn't around.
"I only really realised that he would never come home even though I could watch him on television when I was 10 years old."
Charlotte added that she believes her father would be proud. "I do believe that he is here and there is an afterlife. I miss him every day," she said, adding: "He would want me to do what makes me happy."