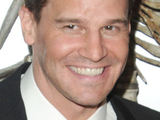 David Boreanaz
and wife Jaime Bergman are reportedly undergoing marriage counselling.
The
Bones
star recently
revealed
that he had cheated on his wife of eight years.
The 40-year-old actor said that he was forced to admit his infidelity after a former mistress threatened to contact media outlets.
Bergman's mother Sue Scallion told
E!
that the couple has no plans to split and are meeting with a counsellor to help salvage their marriage. They are also moving into a new home.
"My daughter's very strong. Jaime told me one day, 'Divorce just isn't an option'. They are going to make this work and keep the family together and raise the children," Scallion said.
She added: "They're not going to give in to it. Jaime and David, they've got a lot of work to do. But they love each other."