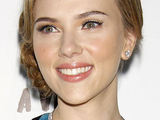 Scarlett Johansson
has revealed that she always sweats when she is on the red carpet.
The 25-year-old actress, who is married to Ryan Reynolds, said that she does not know why she gets nervous about appearing at formal events.
Johansson told Ellen DeGeneres on her chatshow: "I like the getting ready part. I like the hair and the make-up and the pretty dress. It's just getting on the red carpet I just instantly flop sweat.
"It's a weird chemical reaction I have somehow to the red carpet. I don't know what it is. Maybe it's just the carpet itself. I flop sweat [when I sing] too. I probably need a shot to stop that."