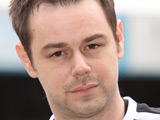 Zoo
magazine has dropped
Danny Dyer
's advice column following
complaints
earlier this week about a response to a letter, which suggested a boyfriend should "cut his ex's face".
The remark, which appeared in the actor's 'Ask Danny' piece, sparked huge criticism on social networking sites such as Twitter.
Dyer insisted that he had been "misquoted" and claimed that he would never advise a member of the public to be violent against women.
Zoo
's publishers Bauer Media and editor Tom Etherington also apologised for offence caused by the article and launched an internal inquiry.
A new statement on the lads' magazine's website today confirmed that Dyer's column would not be returning.
"As an immediate result of an on-going internal inquiry following an indefensible comment published in this week's issue,
Zoo
has decided to bring the Danny Dyer column to an end," it reads.
"By way of sincere apology and to underline that
Zoo
condemns any violence against women, we have made a substantial donation to Women's Aid. The space for Danny Dyer's column in next week's issue will be devoted to driving awareness to the issue of violence against women."