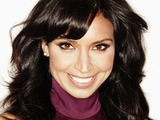 Adrian Chiles has left her, Frank Lampard apparently loves her and Simon Cowell
can't wait
to get his hands on her.
Christine Bleakley
is definitely one of the hottest properties in TV today, but how much do you really know about her? Here are ten fast facts about the Northern Irish star.
1.
Christine was born on February 2, 1979 in Newtownards, County Down to mother Mina and musician father Frederick.
2.
Bleakley's favourite song is the Beyoncé modern classic 'Single Ladies'. We're not sure if Christine has tried performing the famous video routine, but she does admit to having a "girl crush" on Mrs Jay Z.
3.
Christine was always destined to become a TV star. From a young age, she pretended to host her own programmes in her bedroom rather than play traditional children's games. "I asked for a video camera for Christmas one year so I could record my 'programmes'. You can just hear me bossing my sister about or whoever else I'd coerced into playing TV with me," she says.
4.
The
One Show
host claims that one of her career highlights to date was being referenced in sitcom
The Royle Family
. "The family were playing the name-on-the-head game - David had Barack Obama written on his forehead, dad was the Pope, and Sue Johnston and Caroline Aherne were Adrian Chiles and Christine Bleakley," she explains. "I have watched that show from day one, and there was Caroline Aherne sitting there with my name on her head. It was absolutely incredible."
5.
Last year, Irish funnyman Patrick Kielty revealed to the nation Christine's mobile telephone digits while on
The One Show
. However, Bleakley claims that the biggest shock about the incident was that she didn't receive a single text of abuse from viewers. "I thought there would be some saying, 'You silly bitch, we hate you', but it was just lovely, concerned viewers wishing me well."
6.
What would Christine do if she wasn't a perky daytime TV presenter? "I'd like to fly helicopters," she declares. "Air ambulance or air sea rescue or something like that."
7.
Christine may be engaging in a relationship with England and Chelsea star Frank Lampard, but does she understand the all-important football challenge - the offside rule?! Apparently not, but she insists that she still counts herself a fan of the beautiful game. "No, I don't understand the offside rule, but I do understand the passion for football."
8.
If you've ever spotted a scar on Christine's right arm and wondered where it came from, the culprit was a naughty goose! "I got it years ago when a flock of geese on my granny's farm decided to sample me for lunch. I've been petrified of birds ever since," she says.
9.
Christine has one of the weirdest hobbies imaginable. She loves ironing! "I know it's boring but I'm madly obsessed," she admits. Do you mind doing our T-shirts while you're at it, Christine?
10.
Bleakley's hero in the media industry is fellow Northern Ireland native and TV/radio veteran Gloria Hunniford. "She came from a relatively humble background in Northern Ireland and quickly established herself here and, despite everything life's thrown at her, she's still going strong at the top of her game," says Christine.