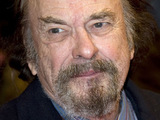 A judge has dismissed charges of driving while intoxicated against actor
Rip Torn
.
The 79-year-old avoided conviction after completing a court-mandated programme on alcohol education, reports
The AP
. The programme allows alcohol offenders to clear their records by attending the course.
He was stopped by police in 2008 while driving below the speed limit in a breakdown lane close to his home in Salisbury, CT.
Torn still
faces charges
for a bank robbery that he allegedly performed while drunk and armed in January 2010.