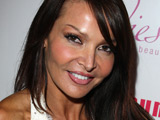 Model and TV presenter
Lizzie Cundy
has claimed that WAGs are treated unfairly by the public and media.
Cundy, whose husband Jason is an ex-soccer star, said that the positive work of footballers' wives and girlfriends is often ignored, arguing that most of them do more than "shop and get their nails done".
"WAGs always look glamourous and wonderful. And do you know what? They don't just shop and get their nails done. A lot of the girls I know have their own careers," she told
DS
.
"Plus, whether we like it or not they sell papers and magazines. I think there's sometimes an element of jealousy, which is unfair because lots of them do charity work in their spare time. They don't ever get credit and I'm here to stick up for them. I've known a lot of footballers' wives and not nearly enough good is written about them."
Speaking about her plans for the summer, she added: "I'm going to be busy in South Africa. I know Fabio [Capello] said that he doesn't want the girls out there, but I know quite a few who are heading over.
"They want to be there if the boys do well to show their support. They won't want to miss out. The World Cup is top of the tree and the players don't want their families to miss out. You will definitely see WAGs at the World Cup and you'll definitely see me!"
Cundy will star in
Celebrity Four Weddings
on Monday, May 31 at 9pm on Living.