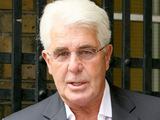 Max Clifford
has said that the popularity of footballers' wives and girlfriends (WAGs) is past its peak.
The publicist suggested to
More
that such popularity "seems to have run its course" after the 2006 World Cup in Germany.
Clifford said: "The reality of being a WAG has never been that glamorous. These women are famous for no other reason aside from the fact that they're on the arm of a Premiership footballer.
"A typical WAG is desperate for any type of publicity they can get. Not all of them are like that, but that's what you associate with the label.
"Their goal is to be a wife or girlfriend, but if they can't get that then wannabe WAGs will sell their stories to get into the papers."
He added: "Footballers have become the main target for kiss-and-tells in the past ten years, probably because a lot of them aren't very bright, which makes them easy targets.
"We used to get girls phoning the office listing names of players who'd get them the best price for a kiss-and-tell so they could target them.
"The players exploit the girls, but the girls also exploit the men. But for all the naughty players there are the good ones too. Theo Walcott's a bit smarter and stays out of trouble."