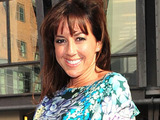 Sheree Murphy
has disagreed with Max Clifford's suggestion that most footballers are not very intelligent.
The actress and wife of Australia international Harry Kewell told
DS
that Clifford had been "a little bit harsh" in his
recent comments
about footballers.
Murphy said: "Footballers come up through the ranks when they're very young. Harry broke into the first team when he was only 17, he travelled from halfway across the world to play in England at 15.
"It's a little bit mean to say all footballers are thick. There's obviously very clever women out there that are trying to bag them maybe! I don't know. They're young, their lifestyle is very attractive to some women.
"My husband's certainly not thick and none of his friends are thick. They're not silly. I just think that's pretty mean to say that and I don't agree with that at all."
Regarding Fabio Capello's
'WAG ban'
at the upcoming World Cup, she added: "When they were in Germany, all the English wives actually stayed with the guys. For Australia we weren't allowed to do that. Our fellas were staying in a complex about an hour and a half's drive away.
"I think Fabio Capello is just doing what we do. The girls aren't banned - they can go, but they will be staying far away from the guys and I think that's good. They should be focused and their heads in the right place."
Asked if Gala Bingo's £250k High 5 game - which she is
fronting
in June and July - is aimed just at women, Murphy said: "Anyone can go along, if you're not interested in the football being on the TV every night of the week! It's there for everybody really - anyone who wants to join in."