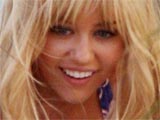 Miley Cyrus
has said that she is not leaving Hannah Montana behind because they are the same person.
The 17-year-old shot to fame as the student who moonlights as a pop star in the Disney channel franchise. It was recently announced that the show will finish with its upcoming fourth season.
Speaking to
Access Hollywood
's Billy Bush, Cyrus insisted that Hannah Montana will always be part of her life.
"People can't say, 'She's leaving Hannah behind' because I am Hannah Montana," she said. "I think that sometimes that's what people have a hard time thinking. That was just me with a wig on. It was all my morals, my songs, my inspiration.
"I was the one telling girls to live their dreams. That was not Hannah Montana, that was me. It's just that now I'm not doing it with a blonde wig anymore or with glitter and all that stuff... There are still songs on my record that have the same meaning but not in such a cutesy way."
The star added that she is "lucky to have had Hannah" and would "never want to make it seem like a bad thing". She admitted that sometimes she "ends up sounding that way" but would "never mean to be disrespectful" to the character because of what she has done for her.
Cyrus recently released new single 'Can't Be Tamed'.
> Cyrus: 'Hannah Montana will have definite ending'