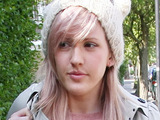 Ellie Goulding
has blamed her parents' divorce for putting her off marriage.
The singer-songwriter, who was 5 when her parents split, told
The Sun
about her fears.
"A lot of my friends had divorced parents and so the norm for me was separation and not having a dad around.
"So it has put me off - and I don't really blame myself for not being interested in marriage and settling down," she said. "The idea of marriage scares me. I haven't been painted a brilliant picture of it."
The
'Guns And Horses'
singer claimed that her hectic workload would put her off pursuing a relationship.
"It isn't something I miss. I don't have time for men. It's impossible," she said. "Most of my songs are about being frustrated, but there's no time to have a proper relationship with someone."
Goulding reportedly hopes to
collaborate
with Cheryl Cole in the future.