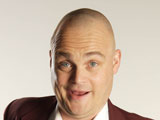 Al Murray
has apologised to Brian May after he appeared on a BBC show which declared Led Zeppelin the world's greatest rock group.
The comedian, best known for his Pub Landlord alter ego, wrote to the Queen star insisting that he is a fan after supporting Led Zeppelin during his appearance on
I'm In A Rock 'n' Roll Band
.
In the letter published on May's website, Murray wrote: "The thing is the way it worked is we got allotted our options, and bizarrely I ended up with Zeppelin (that's telly for you). I do of course love Queen - as does The Pub Landlord - and anything I may have said was in fond jest."
"I am really sorry for any upset. I was amazed actually that Queen didn't win given how passionate and mobilised the fans are," he added. "The truth is you have only ever been fabulously generous and sporting with the whole Pub Landlord thing."
May responded to the letter, writing: "I told [Al] about the deluge of angry letters I'd received about the TV programme on being a rock star... or whatever! He's a very nice chap, and he's told me it's okay to quote him. I hope this will dispel any feelings of animosity anyone might be harbouring about Al."