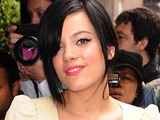 Lily Allen
has admitted that she was drunk during a crucial business meeting.
The singer was intoxicated during an interview with Lagerfeld for a Chanel handbag campaign last year.
She told
Elle
: "It was a big party in Paris. I was drunk and got lost in the building. I wandered into an attic room and Karl was there. We had a chat - although I can't remember what about.
"I do remember asking about some shoes he'd designed that had a green ring in the heel. I asked how they worked. He drew a diagram explaining the physics of making the shoe - I've still got the drawing. A week later I was asked to do the campaign."
Allen previously
insisted
that she isn't bothered by her recent weight gain.