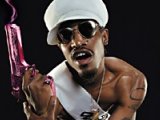 Outkast star Andre Benjamin has quashed rumours that he has a false leg.
The singer turned actor, currently promoting new movie
Four Brothers
, was accused of having a prosthetic limb because of his unusual jaunt.
He told MTV's
TRL
: "I have to crush that one. That happened in '94 - somebody said the way I walk.. one of my legs may be fake. But they're real, they're not wooden. I'm not Pinocchio boy!"