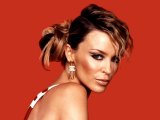 Kylie Minogue's lover Olivier Martinez has been "a tower of strength" for the singer throughout her battle against breast cancer.
"This is the most difficult time of Kylie's life," her sister Dannii told
The Mirror
. "Olivier is amazing - he's a tower of strength and support.
"He is so romantic and does special things for her all the time. He is French, what do you expect? He's got that va va voom. They are so in love."
Kylie, who hopes to make two major public appearances this month, has been recovering while staying at Olivier's flat in Paris.
Dannii added, "Kylie is overwhelmed by the support from fans. I speak to her every day and she gets hundreds of cards and letters wishing her well. My sister is only a tiny little thing but she's a fighter."