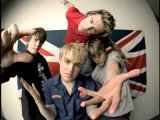 McFly are set to release a cover of The Killers' 'Mr.Brightside'.
The boy band will release the track as the B-side to upcoming single 'I Wanna Hold You' on October 17. The Killers reached number 10 in the UK with the song last year.
The cover will be available on CD1, whilst CD2 of the single will feature 'Easy Way Out', an interview with members of the band and an instrumental version of the A-side. A DVD single will also be available.
'I Wanna Hold You' will be the third single taken from McFly's second album, 'Wonderland'.