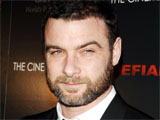 Liev Schreiber
has revealed that he got tattoos of his children's names on his forearms because he thought that it would mean a great deal to them.
The actor, who has two sons with actress Naomi Watts, admitted that the idea of getting the designs first came to him in a dream.
Speaking to
New York
magazine, he said: "I'm not really a tattoo person at all, but I had this dream that one day I would go to pick them up at college, and I would be there in whatever outfit that a sixty-something man would go to pick up their kids at college with, and we'd get a flat tire, and I would get out and I would change the tire, and as I was changing the tire, the sleeve would come up over my wrinkled skin and they would see their names tattooed on my arms and that would be a big deal to them.
"I thought it would just be a wonderful reminder of how much I love them."
It has been reported that Schreiber and Watts have
boarded
Peter Farrelly and Charles Wessler's untitled comedy shorts anthology.